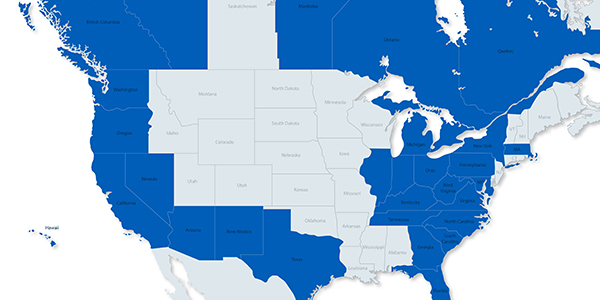 Every Nation North America still has a long way to go to reach cities in the Western/Midwestern region of the United States and much of Canada. One of the ways God has answered our prayers for the people in these regions is through a couple that feels called to plant a church in Colorado! They've passed through the Every Nation Assessment Center that evaluates church-planting couples in their calling, and they've now completed the church-planting bootcamp training that will send them to the field with tools to build a healthy, lasting church from the ground up.
In June 2019, David and Megan Hermes and their four children will relocate to Denver, Colorado to plant an Every Nation church right in the middle of several universities with a combined student population of over 90,000. They've already recruited three experienced, full-time Every Nation Campus missionaries to be part of their launch team.
The Hermes' ten-year service as Every Nation Campus staff and associate pastors at Grace Covenant Church in Chantilly, Virginia, equipped them to influence the student population in Denver. They've spent the last few years pastoring Grace Covenant's satellite congregation in Sterling, Virginia, which grew from 130 members to 300, further preparing them for their calling as church planters. Below, David shares his and his wife's passion and next steps to reach the Denver community.
Megan and I are intent on planting a church that reflects the characteristics of the Every Nation mission: a Christ-centered, Spirit-empowered, socially responsible church and campus ministry that makes disciples among the community and 90,000-plus college students in the area. We're now in the process of recruiting a launch team of campus missionaries as well and recent graduates who have a burden of impacting students through small group discipleship. Not-so-recent graduates can be a part of this effort as well.
We're still looking for more launch team members who will make it their mission to build friendships with at least four non-Christians—the goal being to present the gospel, introduce them to Jesus Christ, and form small groups. Those small groups will focus on establishing them in the faith, equipping them to confidently engage another friend with the gospel.
As a group, we're calling this our "Go Team." If you've been thinking that you would also like to go and be a part of building an Every Nation church from the foundation up, maybe the Denver Go Team is the opportunity for you.
Remember us in your prayers and contact us if going to Denver is something that stirs your heart and is a thought that you can't get out of your mind.
Feel free to contact David at www.letsplantachurch.com if you want to find out how to be greater involved in the work God has in store for Denver, Colorado. Let's go!