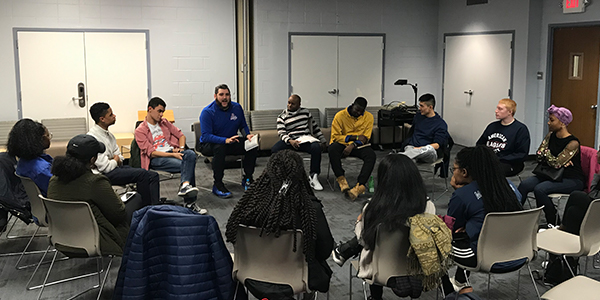 *Lila is a fake name used to protect the identity of the student.
One year ago, Lila—a student of Ethiopian descent who grew up in Washington, D.C.—was simply an email address on the Every Nation Campus chapter's list at American University. Her first year of college, she came to the organization fair where students learn about the different groups on campus, and ended up at the ENC table. Lindsey Turner, one of our ENC missionaries at American University, remembered meeting her that day and never seeing her again. She had no idea that Lila would keep up with the emails she sent out every week.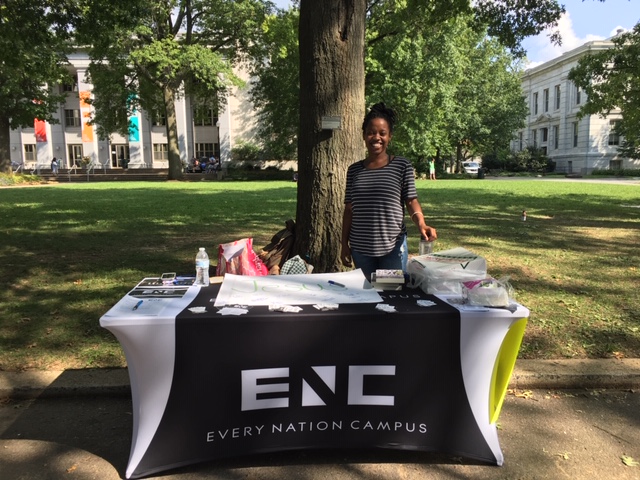 Lindsey hosting the ENC table to connect with students at American University.
Throughout that entire year, Lila had been reading those emails hoping to find something to encourage her that she could know God for herself. But because of her background in previous church settings where God felt far from her, she struggled with deep uncertainty about whether she wanted that. Still, something as small as an email proved enough to propel her towards God.
One year later, Lila showed up to the ENC large group meeting where the students meet every week to study the Bible, receive ministry, and be empowered to be ministers on campus. She was the first person to show up, and she'd even brought her roommate. Remembering Lila's face from last year, Lindsey came up to her and asked what brought them there. Lila responded,
We want to know more about God, but we're not ready to take the steps to go to a church.
She agreed to meet with Lindsey over coffee to talk more, where she told Lindsey her fears and questions about following Christ. She wasn't ready to make a decision to follow Christ because she didn't know enough about the character of God to trust him, and she didn't know what life would look like after saying yes to him. Despite Lila's hesitancy, God continued to make ways for her to come to a place where she could know, once and for all, his love for her and his unchanging character.
That pivotal moment came when the ENC chapter held a special event with a pastor from their church. His sermon, "Uber Jesus," challenged students' understanding of Christ's lordship. The analogy to the popular car-share service depicted a Jesus that doesn't exist just to drive us wherever we tell him to take us (as an Uber driver would), but to whom we give our "keys," and trust, entirely. At the end of his message, he asked: "What part of your life do you need to surrender to Jesus?"
After hearing that message, Lila finally received the clarity from God she needed. Her heart was changed. She responded,
I need to surrender my whole life.
Today, Lila can be found every week at the ENC meetings, and bringing friends with her. She has been excitedly learning about the foundations of faith and how to practically live a life of salvation, and continues meeting with Lindsey to go through One 2 One (a biblical foundations overview). As someone with a lot of connections on campus, she even has people come to the meetings simply from interacting with her and seeing how she's changed. One student recently came to an ENC meeting wanting to know what it means to live like a Christian, saying it was because she had talked with Lila.
Students carry big life questions with them every day, and we never know which small gestures God will use as he draws these students to him. We thank God for his unending and gentle pursuit of Lila that allowed her to finally know him for herself. Because of this genuine relationship, she is able to bring other apprehensive students into the love, salvation, and security of Christ. This moment has not only been an answer to prayers for Lila but also for our ENC chapter as they've been praying for more ethnic diversity in their group to reflect God's heart for the nations. Please continue to pray for Lila as she grows in faith, and for fruitfulness in our campus ministry at American University.
Thank you for partnering with Every Nation missionaries that God moves through to bring his life-changing power into the lives of students from all backgrounds. To partner with or send a special gift to Lindsey and Ronnell, our ENC missionaries at American University, please follow their links or visit their profiles at give.everynation.org.