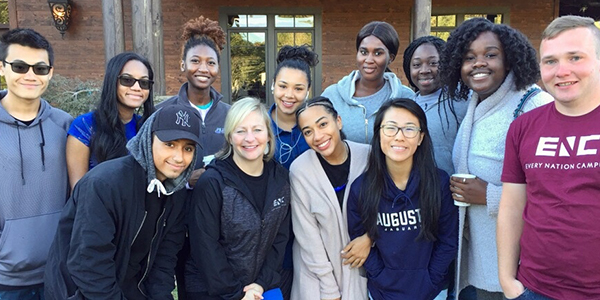 With his father in the military, Marc moved from place to place. But no matter how much he moved around he always found himself in the same crowd: cool kids with drugs (though he never actually did drugs), and dope sneakers.
That was pretty much my god in high school: sneakers.
Meanwhile, Marc's dad had been searching for something more. He found a church he wanted to get more involved with: InFocus Church, our Every Nation church in Evans, Georgia. Soon after, to Marc's disdain, he did the dad thing and forced Marc to attend a youth group meeting there. Dad was the sensitive Jesus lover; Marc was not. Underneath Marc's aloof, reluctant exterior was a shy kid who wanted to connect with people more deeply. Yet, the life he was used to told him he wasn't that kind of person. So, he sat in the back of the strange youth meeting dreading every second . . .  
Until he met Christ. The kid who had never cried in public felt joyful tears run down his face as he lifted his hands in response to the call to receive salvation. Something about the way the pastor preached about worship finally clicked in his heart. He returned to his father that night a different son. His dad asked hopefully, "Did you experience Jesus?" He responded, "In a way I never had before . . . and I love it."
That was one of the best nights of my life . . . the Lord blessed me with a new heart that night.
And his story ended happily ever after.
Right? Wrong. Marc found a new life in Christ, immersed himself in serving at the church, and had a new joy about him (sneaker game still strong). However, he still struggled deeply with shyness, and the idea of relying on a spiritual community felt awkward. Even farther off was the idea that God could use him as a leader to help change other students' lives.
That's where God intervened, again, through his father. Marc's dad had heard about the Every Nation Campus Conference, an event where students from all over the region participate in ministry, training, and worship. Making good use of his dad card, he made him attend the conference. Marc still didn't really want to open up to people he felt weren't like him. So he slouched in the back of a van on the way to another forced event—his first ENC Conference in Jacksonville.
But by the end of the conference God had sparked Marc's heart with a new love for Jesus, and a deep love for Christ's Church and for others. He realized then that none of us are meant to do life alone. Every Nation Campus missionary Alli Townsend met him there and identified the leadership capabilities in him. She relentlessly pushed Marc past all his excuses and further into God's plan for his life, just as his father had done. Through her influence, Marc began reaching out to his peers and leading Bible studies. In his own words, "she was training me up to be the leader God was calling me to be."
Five years later at the 2019 conference, Marc stood on stage encouraging hundreds of students with his testimony.
Chapel Hill is known as "the city on a hill." We have an opportunity to be a light to the nations by reaching UNC and the diverse community in it, which makes up the majority of our city.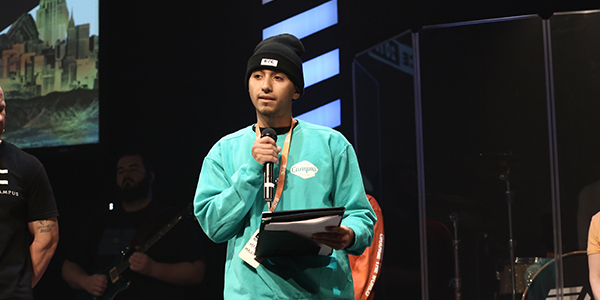 Marc sharing his testimony at the Every Nation Campus Conference.
It was as if I had been receiving something I'd been missing my whole life . . . one conference forever impacted my life.
Marc is now a junior at Augusta University, finishing his degree in psychology, with plans to become a campus missionary. He's seen his ENC chapter grow from fifteen to nearly fifty students regularly attending. He's led multiple small groups throughout four semesters, and currently leads a men's group. He hopes to empower students to attract more of the lost students on campus, to see a secular university become God's university. He especially hopes for people like him, who grow up hearing about Jesus but don't know what it really means to be saved. Every day, this sneaker lover remains grateful for what God gave him through ENC:
The testimony of a young man who was broken down by Christ, just to have love for something besides himself emerge.
Thank you for believing with us that God cares to do something big in the hearts of college students. By partnering with an Every Nation church or missionary, you are changing lives.