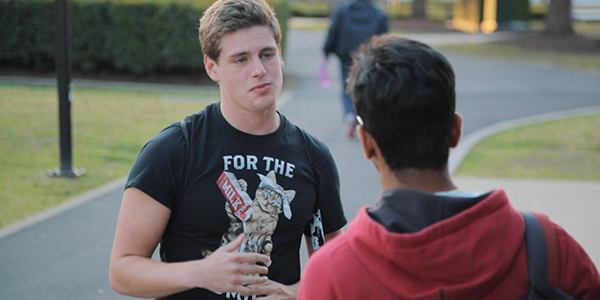 On a cool winter day in Sydney, Australia, a high school student walked across campus, his emotions numbed. As an adopted child, he daily endured bullying and the pain of not belonging. He couldn't hold it in anymore. Back home, he had started planning a bomb attack on his school.
A group of Americans stopped him on his way from class. They got to know him and invited him to their event later that day. By God's grace, he showed up. The event moved this hurting son so deeply that he came back to the missionaries the next day, asking to get baptized.    
The student gave his life to Christ that day, his hurt replaced with hope. He got rid of his plans to hurt his classmates and instead received the healing and love he needed from God the Father, all because God sent an Every Nation short-term missions team at the right time. One of the key people who helped that student know Christ was Logan. But just over a year ago, Logan had lived in similar pain.
I had pretty much everything that society says being a man is, and I guess I never really felt like one. I never felt fulfilled.
Underneath the credentials of a great family, friends, girlfriend, and spot on his football team, Logan experienced cycles of immense loneliness and identity confusion. During a particularly bad cycle, Logan got a text from a youth pastor, inviting him to a citywide student worship event. He hesitated but went, and he ended up connecting to the Every Nation Campus chapter at Kennesaw State University.
It wasn't people I was used to hanging out with, but they were incredibly loving. It just felt like a family.
A few weeks later, Logan found himself at a worship night that the ENC chapter held. After years of letting what happened to him as a kid dictate his life, Logan decided to put his full trust in God's power to dictate a better life for him.
For the first time in my life, I let him dictate who I was and not this pain that happened to me . . . Ever since then God's continued to transform my life.
That "ever since then" included Logan signing up for an Every Nation mission trip to Australia, where he intervened in the life of the high schooler who'd been plotting an attack. Logan's story of transformation led to this student, halfway across the world, to experience God's freedom firsthand.
For someone who felt like they had no purpose for being here, to all of a sudden being a part of something eternal has just been incredible.