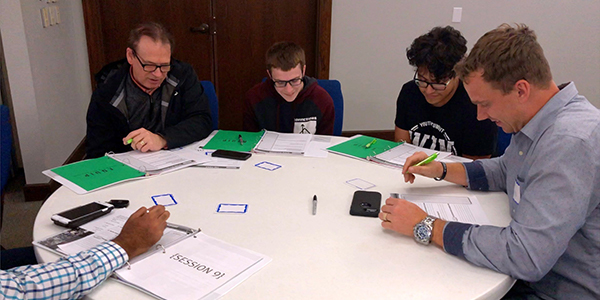 DeLand sits just thirty minutes from Daytona, drawing millions of tourists every year and hosting major motorsports (i.e., NASCAR). One church planter with a crazy story is teaming up with partners like you to reach people there with the gospel. There's only one problem.
He can't drive.  
Driving home after another long night of drinking and partying, I swerved to avoid an oncoming vehicle. My truck flipped and rolled. I was ejected from the cab, but my best friend was killed instantly.
At sixteen years old, Travis was hit by a car driven by a friend. This parking lot mishap led to a broken ankle and the end of his soccer career before it began.
With his hopes crushed, Travis tried all the remedies he knew, spiraling deep into drug and alcohol abuse. After a long night of drinking, Travis made another decision that took his best friend's life and gave him a criminal record.
His sentence: eleven years for DUI manslaughter. 
But God arranged for Travis' discipleship path to begin right there in the Orange County jail. A visiting minister preached Revelation 3:20, "Behold, I stand at the door and knock. If anyone hears my voice and opens the door, I will come in to him and eat with him, and he with me." Travis finally understood the gospel, encountering the life-changing power of Jesus Christ. He spent all his idle time devouring the Bible, as he bounced around the Florida prison system for ten years.
Over the next nine years and four months, I started Bible studies in the seven Florida prisons to which I was transferred.
He began sharing the gospel in the recreation yard and leading Bible studies, making disciples of the inmates. In fact, Travis felt that God was calling him to plant a church just one year into his prison sentence. 
That's where the Every Nation church in Lake Mary, Florida, comes in. In 2010, Every Nation partners made a church plant possible in Lake Mary, Florida. Two years later, Travis showed up at that church, fresh out of prison, having to relearn how to be a part of society. Following Christ in prison seemed simpler. 
Every Nation Church Lake Mary helped him bridge this gap. Pastor Shaddy, the Egyptian pastor who planted the church, met with Travis every week for discipleship training, even helping him land a dream job with Charisma magazine.
Once Travis shared his desire to plant a church, Pastor Shaddy sent him to the Every Nation Assessment Center, a three-day intensive that evaluates potential planters' preparedness for church-planting. The experienced team of assessors declared Travis and his wife fit to run a church. They are now interning at Lake Mary for two years until their launch in DeLand, Florida, where they plan to start a campus ministry at Stetson University.  
This brings him back to the road. Starting a church requires intensive networking. For example, here are some things other Every Nation church planters encounter in their typical week: the owner of a YMCA across town wants to meet with you about providing space for Sunday service, you meet someone at the grocery store who wants to know more about Christ, or you need to visit the universities in your county and the only way to get there is by highway.
Imagine doing all these things every week without being able to drive—due to the law which constantly reminds you of your mistakes. Do you still think you're called to church planting?
Travis does. 
He is a living testimony that no matter the faults, God will cause good works in the lives of those who follow Christ. Travis's story shows how necessary discipleship is long after saying yes. Soon, he will launch a church where others like him can walk into, find discipleship relationships, and leave out pursuing their God-given callings. He and his wife have plans in place to obey God's call despite this difficulty. 
My faith was continuing to grow, and I was beginning to understand that all things are possible for one who believes (Mark 9:23)—even for an ex-convict.
Thank you for being a lifetime world changer by investing in people like Travis all over the world. If you'd like to join Travis and Brittany in their ministry in DeLand, you can visit their profile at give.everynation.org.